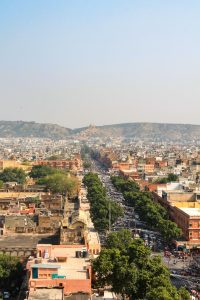 The average Rajasthan tourist spends a lot of time in Jaipur, the state's capital. In terms of tourism, such as sightseeing and shopping, Jaipur has a lot to offer. However, in order to highlight the fact that there is even more to enjoy in the capital city, You can book from banbanjara we've compiled a list of the best 10 adventurous activities in Jaipur.
Zorbing:
Zorbing is a quite pleasant adventure activity available in Jaipur. Zorbing allows you to collide with people and roll over without the fear of injury.
 ATV Bike Ride:
Don't doubt the Jaipur tourist experience for a tour of historic palaces and temples; there's plenty of chills and thrills to be had here. ATV bike riding is one of the adventurous sports available in Jaipur. Riding an ATV ride in Jaipur provides unique thrills; an all-terrain vehicle allows you to navigate the most difficult trails and enjoy the most difficult rides.
ATV bike rides are available for Rs. 4000 in nail Baugh. If you haven't done so already, you should absolutely do this bike adventure ride. Riding on these motorcycles will provide you with a unique experience.
 Camel Safari in Jaipur:
You must ride camels in Rajasthan if you want to get a true sense of the place. If you want to go on an adventure ride, you can go on a camel safari, which will provide you with a thrilling experience. On a camel hump, you can visit basis's Fort Madhogarh.The camel journey to the fort would cost you roughly Rs.1500. Camel safaris are quite thrilling, and if you're visiting Rajasthan, you should absolutely take a camel ride because you won't be able to enjoy the same experience elsewhere. Riding a camel can be a wonderful adventure if you've never ever touched or seen a camel before.
Rifle Shooting:
If you want to learn how to fire a rifle, go to Star Shooting Academy in Jaipur. You will be able to learn how to operate and handle the pistol here, which will be both educational and thrilling. You will be taught the fundamentals of rifle shooting with handguns and air rifles. You can visit Rifle Shooting Academy at Jaipur's Vishal Nagar.To receive this fantastic opportunity, you must spend Rs. 720. Rifle Shooting will help you determine whether or not you are truly interested in this sport. If you want to buy a pistol or a gun, you should take basic training in Jaipur.
Hot Balloon Ride in kakas:
A hot air balloon flight is a great way to enjoy a bird's eye perspective of the Pink City from the skies. The views of stunning forts and palaces will fascinate you during your journey. While admiring Jaipur's colorful splendor and hearing the rustling rounds in the air, you will have a good time. When it comes to having a fun adventure in Jaipur, this ride is pretty popular. People visiting Jaipur for a single day should take this ride because it allows them to see practically every section of the city in a single day. You must first travel to kakas, where you can make a reservation for a hot air balloon flight. This ride will be well worth the money you spend since you will never regret it.
Stay in Tree house:
Have you ever had the opportunity to live in a tree house? You most likely haven't tried glamming before, but you can now. Jaipur is not only known for its forts and safaris, but it is also home to a variety of nesting birds. glamming has become a popular feature of adventure trips in Jaipur these days.
You can glam at the well-known Tree House resort, which offers top-of-the-line art amenities, leathered seats, and iron wrought beds. You will get the opportunity to dwell in Keara tree nests, which are named after Jaipur's birds. Tennis courts, camel rides, and bird watching are all available from the luxury tree houses. 
Elephant Tour for a thrilling experience:
You can book a four-hour trip to Jaipur's City Palace, Hawa Mahal, and Jal Mahan. Tourists in Jaipur love elephant safaris. For a four-hour Elephant ride, you'll need to pay anywhere between Rs. 2500 and Rs. 2700.
You will be able to experience a bumpy elephant ride in addition to seeing the stunning grandeur of the forts. If you've never ridden an elephant before, this four-hour tour will allow you to have a lot of fun. Riding an elephant is a very different experience from riding a bike or driving a car. This is a once-in-a-lifetime opportunity that you should take advantage of