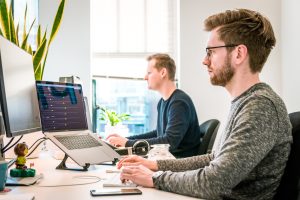 with real estate dealings and discussions, which might result in you losing potential leads in the process.
To avoid returning to this cycle, you must find a balance between the two in order to succeed. 
Population growth has increased demand for real estate, which has kept real estate professionals busier than ever. So how can agents establish themselves as an expert in their field and set themselves out from the competition?
Implement a digital marketing strategy as a first step. In many businesses, this is now considered to be the new norm.
If you want to stand out from the competition, you must start taking internet marketing seriously because it is crucial for building your reputation as a real estate agent, expanding your reach, and attracting new clients to your business.
The following advice can help you sell your properties online effectively as a real estate agent.
Identify Your Target Audience and Find a Unique Niche
Whether used in the real estate sector or elsewhere, this is the very first step in digital marketing. Relevance is key at this stage. By segmenting the target audience, real estate agents may produce meaningful material.
If your real estate digital marketing strategy tries to appeal to everyone at once, you won't be able to achieve your aims.
Focusing on a particular geographic location for your real estate deals is a brilliant marketing strategy for digital real estate marketing. Concentrating on a single area of interest will help you become knowledgeable and improve your understanding of the neighborhood's houses as well as all of its hidden gems.
Include mobile marketing and email in the process.
It is impossible to dispute the relevance of mobile and video marketing given how successful numerous real estate firms have been using them.
Many studies have demonstrated that mobile advertising campaigns are much more successful. It comes as no surprise that a lot of people visit websites on their mobile devices.
Videos help with converting as well. Nevertheless, depending on your budget, this can be a bit pricey given that both mobile and video marketing come at a high cost. You would have to invest in the necessary tools, edit it, and run it as paid advertising.
However, if you concentrate on its results, the money spent was truly a long-term investment. Watching a product presentation video may impact a potential customer's purchasing decision, which may also result in quality leads.
Additionally, search engines rank video material. It has been demonstrated that posting videos increases engagement, which is not surprising given that YouTube is constantly looking for content that interests viewers.
Don't Underestimate the Importance of Online Reviews
Building a reputation is important in almost every industry, but it's especially important in real estate because people are investing significant sums of money and want to know what they are getting into.
Online reviews are one of the simplest ways to gain the trust and credibility of customers. For example, customers can review your services on your Google company page.
A few favorable evaluations on your page will give potential customers confidence when they are considering working with you for the first time.
When trying to convince clients to make significant real estate investments, trust is a crucial component in the real estate industry.
You can ask your customers to post their evaluations if you have a social media or business presence. This is a quick and reliable approach to close more business. 
Become a Part of the Virtual World
The bulk of digital marketing experts in the real estate industry use the idea of offering virtual tours.
This strategy helps people acquire homes while simultaneously generating additional revenue for real estate brokers. Your clients will grow to trust you more as a result of the virtual tour because they can see the properties in person.
Use actual home footage rather than 3D simulations when visually exploring a property. Otherwise, simply speaking electronically while using fictitious visuals is insufficient to persuade.
To increase sales after that, try becoming more active on your social media platforms. Make a social media strategy and work on implementing it.
When we talk about social media marketing plan, we don't mean the occasional Facebook post. A comprehensive strategy is what works in social media marketing and is essentially what the real estate sector requires.
Don't Refrain From Investing in SEO
By implementing a successful SEO strategy, your website can be seen at the top of search engine results.
It's crucial to remember that search engine algorithms are always evolving. As a result, you should constantly monitor new changes and adjust your SEO approach as necessary.
Optimization is a crucial step in putting your digital marketing strategy into action. The use of keywords in SEO is crucial for successful outcomes. They are what individuals use to seek for information on the internet. In addition, for best results, try doing keyword research and incorporating them into your blog posts and articles.
Pay-Per-Click (PPC) Advertising as a Real Estate Agent
Use of pay-per-click (or PPC) advertising by realtors seeking fresh leads can be quite advantageous since they only have to pay when the ad is clicked.
When looking for possible clients who might genuinely be interested in what they have to offer, real estate professionals have a lot of digital marketing options at their disposal.
Conclusion
Real estate agents can improve their chances of getting noticed by potential customers by focusing on creating material that aims to solve the problems and worries of the buyers.