Get Distance Education at Best Distance Learning University in India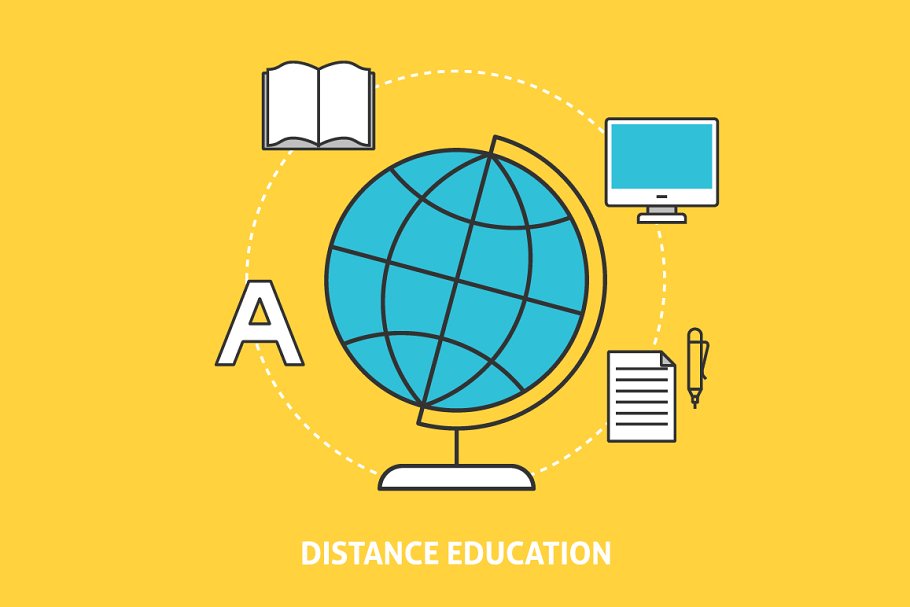 Learning has changed a lot, especially after the pandemic. Online distance learning is more or equally
valuable.
Distance Pathshala has always been in favor of distance education, which is a very advanced mode of
learning in today's world of digitization.
What is distance education?
Distance learning is another method of learning that is very different from how we have studied for
generations. Education reaches students through webcams or videoconferencing. To get distance
education at the best distance-learning university in India, you should have proper support from
technology, which is one of the major challenges many students face, especially in rural areas. if we
don't know how to operate, which can lead to discouragement and ultimately affect our learning. So you
should have a working laptop or mobile phone. A good Wi-Fi connection is another essential thing to have
if you are going to opt for online distance learning. Wi-Fi connection is still a big problem, specifically in
many parts of rural India. It's very hard to get a Wi-Fi network, which is a major reason for irregularity in
daily classes. The last thing you should be doing is in a quiet room if the way of educating is
" Synchronous Learning. Quot;
Qualities for the best distance learning in India.
Accreditation
This is one of the most important factors you should look at before choosing any university. These
colleges should have certified approval for providing any online distance degree, and because of this,
only distance colleges have an equal value of a degree and get the same amount of opportunity. In
India, these universities should have UGC, NAAC approved & NIRF
rankings and a degree from any college that is not accredited are of no use, as you will not get any job
on that basis.
Accreditation rules differ from country to country.
Technical Element
A reputed distance education university should have a well-setup portal that has student support. Again,
this is also a very important thing to check. You can easily do it by checking student ratings or reviews
about them. You can join old Facebook groups of the students where you can interact with them to
know their experience with the university and ask questions like, " How well do they respond to doubts,
or do they take a lot of time?" These distance colleges' portals should also have a proper system for all
the study material, recorded lectures, progress reports, & sample papers. This system is known as a
Learning management system or LMS. So before taking admission into any university, always check for
the quality of student support.
Return of Investment
Whenever we invest in something, we always wonder how much return or profit we will get. Different
universities provide different courses on different values. One university can charge you much more for
the same course that other universities might have provided you for a much lesser fee or vice versa.
Especially when it comes to education, you should always know if the amount you are paying is worth it
or not in terms of the course by checking if their syllabus is proper as per the degree you are studying
for or subjects you are relatable enough to for the skill you want for your job. Placement is another way
you can check if you are getting a return on your investment. The India Top Distance Education University
always provide you with great placement opportunities. Day by day, the placement scenario
of distance learning education in India is getting better as more and more reputed companies recruit
students from these colleges. This is great news for all the students who are working but studying
further for a better job and salary in the future.
Type of distance learning
There are two ways university provides distance learning education in India – Asynchronous and
Synchronous
Synchronous Distance Learning
In this mode, you get to learn through a virtual classroom where teachers will interact with you and
other classmates at the same time.
Asynchronous Distance Learning
This mode doesn't include real-time learning through any webcam platform. You study or learn at your
own pace and at times you prefer. You get recorded lectures and online study material.
Important Note
There are two major qualities you should have if you are going to pursue distance learning education in India
India adaptability and discipline. Adaptability is important because we're hard-wired to learn through
classroom learning, and this virtual concept is still new to us. Many struggles with these things as they
are not self-driven or disciplined enough it's very hard to get the full benefit of online distance learning.
Also, some students still don't feel fully satisfied studying via screen as they feel they are not well
connected to their professors. So it's the first thing you should know about yourself if you can learn in
the absence of authorities which are available in on-campus classrooms where study happens
traditionally and everything is well structured.
Best Distance Learning Education University in India.
Graduating from a well-established and renowned distance university gives a special reputation, which is
not possible with any university. These Universities have tie-ups with bigger organizations, which will
eventually lead you to get better job and salary options. These are some universities that provide the
best distance-learning education in India.
1. Indira Gandhi National Open University.
2. Delhi University distance learning.
3. Amity University ODL.
4. Netaji Subhas Open University
5. Sikkim Manipal University
6. Dr Ambedkar Open University
7. Jamia Millia Islamia Center Open University
8. Madhya Pradesh Bhoj Distance education university
9. IMT Open University
10. Symbiosis Open University
11. M.p.bhoj University Bhopal
12. Karnataka state of open University
13. Smt. Nathibai Damodar Thakersey Women's University