The way to Everest Base Camp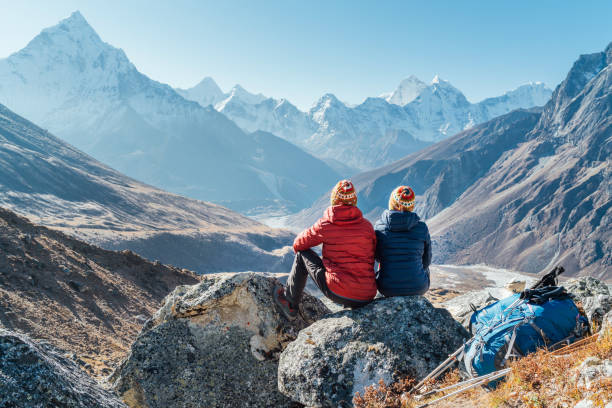 Overview
The voyage to Everest Base Camp involves not just dedication and commitment, but also a razor-sharp
focus of willpower and resolve that one would need to get themselves through 4–8 hours of hiking each
day.
To reach Everest Base Camp, one would need to fly into Lukla Airport, one of the world's most (you'll
see why soon), hike along the Dudh Kosi River to Namche Bazaar, the Sherpa capital, at 3,867 meters,
and seven days to Dingboche (4,260 meters), Louche (4,930 meters), Gorakshep (5,140 meters), and
finally Everest Base Camp (5,364).
One of the scariest airports in the world is Lukla. The airport's runway had to be constructed on top of a
small cliff due to its inconvenient location 2,860 meters above sea level atop a mountain, encircled by
the Himalayan foothills,
Lukla
The runway at Lukla Airport is one of the shortest in the world at 527 meters long, 30 meters wide, and
11.7% gradient. Because of this, it can only be reached by helicopters and small aircraft. If the aircraft
came in too slowly, it would hit the cliff before landing, and if it came in too quickly, it would hit the
mountain.
One of the world's most well-known treks is the one to Everest Base Camp. Numerous travelers come to
Nepal each year to complete this journey, numbering in the hundreds. Many have been forced to keep
coming back by the beauty of this place.
To reach Lukla
There are two methods to get to Lukla: either take a flight from Kathmandu to Lukla or take a bus to Jiri,
where you can climb for 6–8 days to get to Lukla. You'll have a wonderful glimpse of the majestic
Himalayas up close during the 30-minute flight, to travel in a thirteen-seater aircraft.
Following receipt of your permit, you can begin your march across the most breathtaking setting.
Walking takes about ten hours from Lukla to Namche bazaar. You will pass snow-covered mountains
(which is why you are there in the first place), frozen river streams, hanging bridges in abundance, and
many of them. Mountain goats, yaks, and Lophophorus (the Nepalese bird known as the Daphne) are
also commonly found here.
At the beginning of your Namche Bazar, about five hours from Lukla, you will reach Monjo, a little
settlement. Many people decide to spend the night and rest in this town.
Everest camp
Nepal's Everest Base Camp is a renowned trekking destination. The entire walk is breathtaking scenery
and sweeping vistas of Nepal's highlands and the Himalayas. While trekking along this route, you will get
swiftly running white rivers, verdant grazing plains, breezy hilltops, and lush green forests. The
Sagarmatha National Park, a UNESCO world heritage site, is traversed by the Everest Base Camp trail. In
essence, this is a trek to tea houses.
This is the charm of Nepal's hilly regions; although you can find incredibly gorgeous locations, staying in
opulent hotels is but a desire. The villages of the ethnic Sherpa's and their way of life are distinctive. In
the higher villages, there are Tibetan-influenced customs and cultures, as well as several Buddhist
prayer flags.
Details
Aside from that immerse themselves in the local culture by visiting monasteries, interacting with local
guides and teahouse proprietors, and taking in the Buddhist stupas and mani stones that they pass along
the road.
Walking for the pure enjoyment of it fills the days, as does being determined to do so. Metal bridges are
spanned across deep gorges, and you will pass by colorful prayer flags on your way there. The rewards
of the evenings include delicious Nepali food, chai, and chats with other trekkers and regional guides
around the teahouse fire.
The Everest Base Camp walk Is among the most memorable in the world because of the potent
concoction of unmatched natural beauty, intriguing culture, and a sense of accomplishment that is
combined with warm Nepalese hospitality from the inhabitants of the Solukhumbu region.
When should I travel?
It gets hot in May, right before the monsoon season; be ready for some rain but magnificent blossoming
rhododendron blooms. Even if it gets down to below zero in December, the days are still beautiful and
there aren't as many hikers (but remember to wrap up warm in the evenings).
Do I require a guide?
The Everest Base Camp trek has a well-marked track, therefore a guide is not necessary. Even if you are
an experienced trekker, a local guide can substantially enhance your experience. Hiring a guide has
numerous benefits: for US$20 to $30 per day, you're providing someone with worthwhile work, and in
return, you'll learn a lot about the area.